Redmond Children's Ballet Theatre presents End of the Year Performance 2015.
Saturday June 6, 2015. Only One Show!
Don't miss out!
Dear guests, parents, friends and neighbors!
We would like to invite all of you to Art School Ellen's annual End of the Year Performance. Art School Ellen located in Redmond, Washington provides Instruction in Classical Ballet is based on the syllabus of the Vaganova method. In the our performances every student, from beginners to advanced dancers, will have the opportunity to present their accomplishments and talent in a professional setting.
On the program: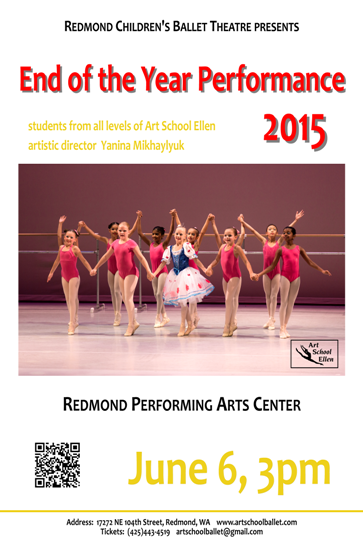 – Our youngest dancers on the stage! (3-5 years old girls)
– Variations performed by participants of Youth America Grand Prix 2015
– Contemporary, Lyrical and Modern
– Two the best students of the piano department of ASE
– The original production, choreographed by the artistic director Yanina Mikhaylyuk -"In our ballet school", music by Léo Delibes and Dmitri Shostakovich. /The premiere of this production was at the Meydenbauer Center Theater in September 2014./
Welcome to our Performance!
PERFORMANCE DATE: Saturday June 6, 2015 at 3pm
RUNTIME: 105min. /Two Acts including an intermission./
LOCATION: Redmond Performing Arts Center /Redmond High School/
ADDRESS: 17272 NE 104 Street Redmond, WA 98052 Map
ADMISSION FEE: $15.00 All ages require a ticket for admission.
CONTACT: (425)443-4519 artschoolballet@gmail.com
Tickets available at the ballet school: Mon-Fri 4-9pm, Sat 9am-4pm. Address
Tickets will be sold at the door 30 minutes prior the beginning of the show.