Master Classes at ARCB
STANKO MILOV

One Day Only! Sunday, January 21st.
A master class session with a former principal dancer of Pacific Northwest Ballet, Stanko Milov.
Stanko Milov has 20+ years' experience as a global leader interdisciplinary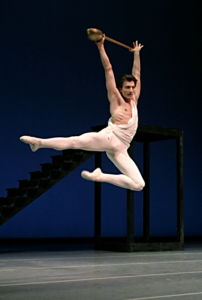 artist, starring in over 2,000 critically acclaimed performances throughout North America, Europe, and Asia.
Mr. Milov joined Pacific Northwest Ballet as a principal dancer in 1999 through 2011 and was a principal dancer with Pittsburgh Ballet Theatre from 1993-1999, after dancing with the National Theatre for Opera and Ballet in Sofia, Bulgaria. He has performed the leading roles in all full-length ballets of the classical repertoire and in most important choreographies by George Balanchine; originating roles and working with some of the world's most sought-after contemporary choreographers. Additionally, Mr. Milov is an established dance and leadership educator, choreographer, music composer, visual artist, and producer.
Mr. Milov's exemplary performing career is paralleled by his academic pursuits. He graduated with honors from the State Choreographic School in Sofia, receiving numerous awards at international ballet competitions along with the First Place at the Bulgarian National Ballet Competition and the 1997 Princess Grace Foundation Dance Fellowship Award.
Mr. Milov is passionate about designing educational curriculum inspiring transformational leaders through the performing arts. He is the founder and executive director of Global Organization for Arts & Leadership (GOAL) with the mission of growing leaders and deepens community engagement through performing arts.
Mr. Milov is a gifted artistic leadership educator and a leader, serving on the faculties of Pittsburgh Ballet Theatre School (1993-1999) and Pacific Northwest Ballet School (1999-2014). An honors graduate of Webster University and Cornish College of the Arts, Stanko has developed and designed customized curriculum for various dance, leadership, kinesiology, choreography, and injury prevention coursework. These interactive leadership centered educational platforms develop and inspire essential leadership skills – Communication, Collaboration, Critical Thinking & Creativity. Annually, Stanko Milov presents numerous performing arts and leadership workshops in the US, where he prepares over 300 future leaders through the performing arts.
Mr. Milov is an accomplished and established choreographer with numerous choreographies for dancers of Pacific Northwest Ballet, Cornish College of the Arts and Bellevue Youth Theatre, Ballet Bellevue. As a stage director, choreographer, composer, lyricist, playwright and producer for GOAL, Mr. Milov has created the full length original musical productions of Aladdin (2015), How to Survive a Zombies Apocalypse (2015), The Nutcracker Musical (2015), Swan Fairytale Musical (2016), Pinocchio Musical (2016) and Once Upon A Crown (2016) and the full length ballet productions of Tchaikovsky's The Nutcracker (2014) and Prokofiev's Romeo and Juliet (2014) and Cinderella (2016).



LE CORSAIRE VARIATION

The schedule: 
11:00-1:00pm for Level D and D* students;
1:00-3:00pm for Level E, F, and G
**Level C* students can join the master classes with Level D after approval from the Artistic Director.
Master Class fee: $55 (2-hr class)
* All participants must register in advance through email or at the office. All master classes must be pre-paid. Make checks payable to ARCB. Cash is OK.
* Proper ballet uniform, shoes and a ballet bun are required!
* Photography and video recording are not allowed during the master classes.
Register Now! Space is limited!
(425)443-4519
artschoolballet@gmail.com